On such a lovely sunny day, we were aptly reminded why hockey remains a winter sport. With cloudless skies, the relentless sun beat down on us from up on high... but this would be the only thing to beat us this during our preseason, as we finished with 3 wins out of 3 to set us up deliciously for the start of the season proper.
Playing a handy Bury team at Fortress Long Road, we came stumbling out of the blocks with a strong aerial, and before we could muster our own plans, we found ourselves sucker-punched in to a 0-1 start. Some teams would unravel at the sight of such misfortune. But instead, this tangible blow ignited our hockey minds in to what would eventually be a 5-1 thrashing. With everyone playing well, it was hard to pick out the best from a well performing side. Notable mentions go to Tom M who once again bossed midfield and made stealthy runs forward, bagging himself yet another goal, and also to Tom Blair who narrowly missed out on a double hat-trick, by not being there. Our defence, bolstered by new keeper Chris W looked sturdy after the first 5 minutes of settling in. There was a Man of the Match display by George A up front, who also scored a screaming reverse which hit the roof of the goal despite the goal mouth being heavily populated... how he managed to avoid decapitating anyone is likely skill, but no doubt the shot was being guided by Connor's mumbling prayers from just beyond the sideline as he finally sobered up.
If preseason was a tickbox exercise, we would have gotten - above expectations - in all areas, with an addendum of - a clean sheet would be invaluable. With goals flowing at the attacking end, we'll just need to figure out how to stop conceding so many, and perhaps one can dream of a back to back promotion this year. There you have it lads, the gauntlet has been thrown.
Lemon goes to Shin for the aforementioned aerial... to start the game... to their central defender, top D. Apparently he misread the situation, even though Bury did reciprocate the gesture after half-time. Colin narrowly missed out despite his bib-wearing antics on the field.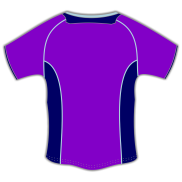 125
Man of the Match
For generally excellent forward play and his goal which amounted to attempted murder.