"It's the same every BL##DY time at Peterborough!"
Pete Dreuitt
Have the M4s started well recently? Err no! We didn't even wait for the whistle for the bad start, first on arrival being informed of the strict pitch protocols at Peterborough meaning no spectators (despite them having their own.. hmmmm?). Unfortunately Gareth, better known as Oli's Dad, didn't think fast enough to claim to be our coach so instead he found himself watching from the carpark (Lemon Vote Number 1). But how glad we were to see familiar faces from the past, assuring us of what fun was in stall for us over the next hour and half. What is it about Peterborough that the weather always seems to be blowing against us? Never one to be set back by the weather, Tom South launched a flick during the warm-up over 2 fences, possibly still travelling in orbit alongside Kettering's penalty flick from two weeks ago. (Lemon vote 2)
Push back against the wind (the wind always seems to be against us at Peterborough!). Bit of a messy start from both teams, loose passes abound. 5 minutes in, the ball is smashed into the D from outside of the 23, Dreuitt pulling out the skills practiced at Thursday's training and as requested by Nev, reverse sticks the ball into the bottom corner. Cheers all round ….. from Peterborough, as it was our goal! Despite the ball not being touched by a Peterborough player within the 23, never mind the 16, the goal was awarded!? I blame the weather! (No Lemon votes…. Get in!!!)
South picked up a bit, sharper passing and both teams getting into the game with their very different styles of play, South with their passing game, linking all lines, against Peterborough's consistent smash long to their sniper on the spot. We knew prior to the game how they play, two strong strikers with great stick/ball control, who will pick your pocket even if you're wearing a wetsuit, tease you to commit and then turn you inside out. With both teams stationing men wide for different reasons, South to play wide and Peterborough to free space for the route one, from above players positioning may have looked somewhat like a doughnut with an empty middle.
South had more of the ball, with a number of strong plays up field and into the D, unfortunately only two were finished definitively. Peterborough stuck with the long ball and occasional runs down the wings following dispossessing South. Notably Dreuitt having to cover for Need who couldn't stick with his pacey opposite number. Not sure why Dreuitt received the Lemon votes for getting schooled by a 5ft, 12 year old, maybe it's the midfield union conspiring against him? (this sealed Dreuitt's fate to Lemon, alongside more unfair voting later)
3-2 at half-time and Need cracks out his lunch box and proceeds to munch on down. (How on earth this only got 1 Lemon vote I can only assume once more influenced by the midfield union) Discussion on changing formation, James Hayes deciding on 4/4/2 to bolster the mid and stop the through balls.
The second half saw a reduction in balls through and time/space for the sniper up front for Peterborough. South pushed forward with foray after foray into Peterborough's half, but the weather really wasn't on our side and despite crack after crack by their defence at Jimmy's ankles nothing to show, not even a short. As they say the umpires can only call what they see and I guess Jimmy's feet are moving too quick for a clear view, hmm… maybe look at the bruises instead? Finally a short was awarded, not for Jimmy's poor ankles, but in time to save the umpire from Jimmy snapping him in half. Ball out to Need, who, maybe a little surprised, wasn't quite able to get a clean shot and Peterborough were able to clear.
Down the other end, old Fagin the sniper picked a pocket and literally left Dreuitt and McCree tied in knots with their sticks, enabling a clear shot at goal. How Dreuitt ended up with the Lemon votes and McCree only one, can only be put down to conspiring from the midfield union. With four in the bag and South chasing from 2 down Peterborough were able to sit back, load the defence and let South plough forward. South dutifully pressed and pressed but unfortunately nothing more to show but more bruises for Jimmy, a boot to the head for Hayes and another un-successful short corner.
A frustrating game that was able to get away from us, when with the lion's share of possession and unfinished opportunities, we should have been able to close the game despite the weather.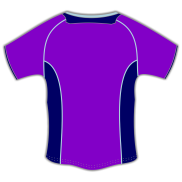 39
Lemon of the Match
For a number of deeply unfair reasons, like i) shooting at our own goal, ii) being outpaced by a munchkin, iii) taking out his fellow defenders, and iv) whining like hell on social media about how people were voting