There Are No Possible Puns Involving 'Crostyx', Are There?
Tom Rosselli
Cambridge South travelled down to Lee Valley for the third league game of our fledgling Division 1 season.
With the skipper away, James was keen to prove he could keep the team composed and focused on the game at hand.
Crostyx started the game hard and fast but South were able to soak up the pressure and adapt to the pitch. Counter-attack hockey by Sam and Will created a few early chances in the opposition circle but we couldn't quite convet. A few shorts went past the post or were saved by the Crostyx keeper.
Crostyx managed to get on to the front foot. Catching South napping from a free hit, they slammed a ball into the circle. Dean nearly cleared the ball but a second man swept in to lift the ball over a sliding Chris.
Heads didn't drop and for the next ten minutes South remained focused, pressing the opposition, trying to create opportunities. Jim and Ollie were linking up well with Harry to create trouble for their defenders in the circle but we couldn't quite convert our chances.
The second half started a bit frantically, Tom R assisting their forwards with a few chances that Chris luckily mopped up in goal. A few green cards were conceded for some sloppy tackles. Joel managed to argue his way into the book and off the pitch by having one chit-chat too many with the umpires.
South conceded again from a simple left slip short corner routine. But there was time on the clock and South were keen to put a mark on the match. Dave and Tom M worked well with Joel (once he was back on the pitch) to build play up the wings for Owen and Jim to run on to. Eventually the ball fell to James just outside the D. He stepped left and reverse hit the ball towards the calling Herbert, who deflected it deftly under the keeper. Herbert's first goal for South!
South were back in and piling on the pressure, but Crostyx were handling it well and some poor discipline from South lost us the momentum in the final minutes of the game.
Altogether a frustrating result to a game we felt could've gone either way.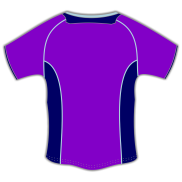 113
Man of the Match
First goal for South, and a good 'un an' all.
Lemon of the Match
Chatting to every umpire in a 20 mile radius about their decisions.