Without knowing how I got there, I was taking my seat at the London Fashion Show and pondering: "Burberry: a fashion label or a barometer of Britishness?". I noticed that my idol, Riccardo Tisci, Burberry's fiercely modernistic designer known for his streetwear, was on the other side of the catwalk. The excitement was too much and I woke with a jolt. What a strange dream.
Little do the boys know, I love fashion. Riccardo's Burberry is more urban, less rural. If the mood of pre-Tisci Burberry was soft rain in the Peak district, Tisci's is closer to Peaky Blinders. I glanced over at my bedside photo of James Bailey, wrapped seductively in a flowing satin kimono, slender legs on show, and quietly whispered to myself "What fashion statement should I make today?" It was 11.30 on Saturday morning, so I rolled out of bed, already in full South match kit, and started to pack my post-match wears.
As I stepped foot on the hockey pitch, I felt nervous. What would the boys think of my carefully prepared outfit? Had I packed enough pairs of shoes? Would James return my favourite kimono?
The action started around me, a blur as I weighed up the pros and cons of the stylish and slick new adidas kit. At one point I noticed Potters Bar score from a short. Huge pressure from South followed which resulted in two yellow cards and several greens but crucially no goal. In between deciding whether my shirt looked better tucked in or tucked out, I saw Potters Bar counter quickly and take the score to two-nil. Sucker punch.
A poor fifteen minutes after half time meant a four-nil lead to the Bar, with some more clinical finishing. South ramped up the pressure, hitting the post and finally scoring from a short corner with ten to go, courtesy of Mark at the back post. Further pressure didn't quite lead to a miraculous comeback and the match finished four-one. Now the game had finished, I started to sweat. The big reveal was moments away.
As I unpacked my shower towel, I carefully kept my wears hidden. I didn't want to ruin the surprise. Unprepared midfield teammates cried out beside me, forgetting two pairs of socks and three pairs of shoes between them. "Not a problem", I cried! I came to the rescue with my spare pairs of recently polished monk straps; surely I must get man of the match now?
Fully clothed and with two shoes on, I marched with confidence to teas, strutting like nobody was watching. The elation would soon end. Twenty minutes later, my tracksuit bottom, shirt and knitwear combination resulted in me receiving Lemon. Oh my dear Riccardo, how I have let you down!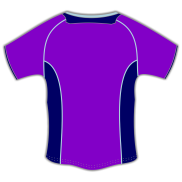 113