The M1s took the short journey down the M11 to face Old Loughtonians M2s who have been parachuted into Prem B this season from the London League Premier Division. Fresh from a convincing win against another Prem B team, Spalding M1s, the lads suspected that this was to be a tougher day at the office...
Loughts fielded a very young and skilful side but did have some experience through the spine of their team and, as expected, they came out firing on all cylinders. However, little did they know that the Chalk/Bailey playbook (known to some as the M1s "hockey bible") has a full chapter dedicated to defensive skullduggery and the team were able to comfortably soak up the pressure for the first 15 minutes.
Daz played a large hand in keeping the home team from getting on the scoresheet particularly during the early exchanges and played admirably with a number of fine saves from open play and short corners. This was to continue throughout the game to the frustration of a large but friendly home crowd.
In the first half South were limited to counterattacking hockey but thankfully the selection committee had opted for raw pace with Browne, Owen and Lewis leading the line with blistering turns of pace when required.
South have been practicing "heads up" attacking hockey and it appears to be working as following a great defensive tackle, 3 quick passes later Owen received the ball in the D from a puffing Lewis (it was a very hot day he claimed) and Owen was calm under pressure crossing it to Browne for the easiest back post finish against his old team.
Half time OL Nil : South 1
South continued to frustrate early in the second half and the youngsters in the opposition began to tire and, in typical teenage fashion, they began to get frustrated.
That enabled South to press forward and the boys had a number of chances and short corners that we just could not convert. More practice on these is required!
One notable chance fell to self-confessed speedster Sam who was released by a Messi-esq lob for a one on one with the keeper but predictably that was fluffed!
It was left to the well-seasoned striker Lewis to secure the win with a typically deadly finish from a tight angle following another counterattack. That was the nail in Loughts' coffin and the boys worked hard to finish out the game with a clean sheet.
To sum up the game it was an Unbelievable defensive performance from Daz and the defensive unit. This should set us up very nicely for the coming games ahead.
PS - When asked about a positive on his performance Owen shrugged off his usual modesty to say that he "created all the goals". Clearly competition for places in the M1s this season is going be high!!!
PPS - another mention to the skipper for his discipline - this week was a brutal hack that would make any lumberjack proud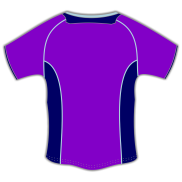 50
Lemon of the Match
Discipline discipline discipline